Indian programmers: how good are they really?
Programmers from India are becoming an increasingly important issue. Read more in the article.
Introduction

Since I hired the first Indian employee in 2012, the view in Germany in particular about offshore outsourcing has changed.

Today, quite a few companies in German-speaking countries have development support from other countries. India is known here as a programmer stronghold. Especially to find IT staff.
True, there are other countries like Romania or Poland. However, prices there are rising rapidly as they are part of the European Union and an IT specialist from Poland can easily go to France or another high-paying country. In addition, there are also fewer people in the Eastern European countries and thus fewer skilled workers. Especially large companies such as SAP, Google, Microsoft and many others fight for the best employees there.
However, the subcontinent has several hundred thousand IT graduates each year. In addition, there are Indian programmers already working in the labor market, which the umbrella organization NASSCOM puts at around 3 million.
Moreover, the IT market in South Asia is no longer small, at US$180 billion a year. It is expected that in a few years, this figure will already be 300 billion U.S. dollars.
However, one question that small and medium-sized agencies and IT service providers in particular are asking is "How good are Indian programmers really?".
Nowadays, many medium-sized companies have already answered this by simply giving it a try and outsourcing to South Asia.
When it does not work
Then, in some of these ventures, it didn't work out. Hence the somewhat poor reputation of offshore outsourcing.
If you go by price alone, you can find quite a few IT service providers that undercut each other and offer the best conditions (the best developers, the best infrastructure, the lowest prices, the shortest terms).
It is not uncommon for the agency from Germany to be faced with experienced Indian sales people or professionals.
The great thing is that the sales person is well trained and experienced. However, when the project starts, "some" junior developer is put to work on the programming and the IT service provider from India hopes that everything will go well. If not, then you just try the next customer.
And there are enough such providers in South Asia. Because if you only offer a poor service and have less costs yourself and the euro amounts are high. Then you may even be able to earn something from such tasks.
Such service providers can be found in abundance in Asia. Because there are enough European customers who are lured by low prices and big promises. A la "500 euros is a lot of money in India".
In the end, you usually spent several thousand euros but only had a bad experience.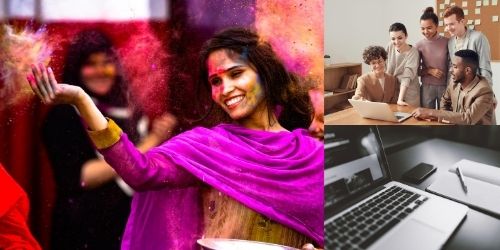 How to do it right
So you have to do things differently when you hire Indian programmers.
One option is to hire developers through an Indian IT service provider, for example.
The provider discusses the requirement with the customers from Germany and creates a job posting. The provider from Asia then uses this to search the labor market for suitable employees.
The agency from Europe can then interview the candidates and see if they are the right fit.
You can then find developers who fit your company and your team.
In addition, there is then a higher level of commitment on all sides. The Indian IT expert knows that he/she has a long-term job and the customer from Germany also tries to integrate the new employee well into the processes.
This then creates transparency and leads to successful cooperation.
It is also clear -> Sometimes such an employee can also be a mis-hire, as can happen in Germany. In my experience, perhaps one in five to seven candidates is unsuitable for whatever reason. However, the employee himself does not necessarily have to be bad. It could simply be the model. Some IT professionals prefer to work with a project manager or a team manager, who in turn talks to the client and relays the requirements and mediates between the IT professional and the client.
The following model also works
Another option is to work with experienced Agile teams from Asia. There are specialized providers, for example in the areas of mobile app development or web development, which work according to Agile Scrum and other modern methods.
These often have customers from the USA, for whom large projects are implemented and which are set for the long term. Quite a few such providers work for the Fortune 500.
However, this also means that the costs are roughly the same as you would pay in Europe. Hourly rates are around 50 to 70 US dollars. Which is about half or even a third of what you would pay in the US.
Due to the increased communication costs in offshore outsourcing, the savings will then usually be very low.
Nevertheless, many companies from the West rely on teams in India, because there is a lot of IT staff and you can build large teams. Something that is rather difficult in Germany or other countries, for example. Especially because there are fewer IT graduates in Europe, but very large IT projects for banks and insurance companies and the like.
The selection process is important
Be it an IT service provider in India or an IT professional from there. It's always about picking the right partner or employee. Because there are very strong differences in quality. Because there are many providers who do the simplest tasks, like implementing WordPress websites with ready-made templates. But also professional service providers who program complex and scalable web solutions in agile teams.
Conclusion
More and more companies have already gained experience and employed Indian IT specialists. Particularly well known are the large corporations that contract IT service providers such as TCS or Infosys. This is also how most employees in German corporations come into contact with this topic. Some are enthusiastic, some are rather unhappy about the work results.
What has been your experience with Indian programmers? I look forward to an exchange with you.
Images: Canva
Indian programmers and an entrepreneur who had a bad experience with them
BITKOM President dissatisfied with the quality of IT services from India
Sascha Thattil ist Blogger und Geschäftsführer bei YUHIRO. Wir bauen Entwicklerteams in Indien für Agenturen, IT Dienstleister und Softwareunternehmen auf.